I have only recently started painting miniatures. The Earth Elemental and Ice Elemental you see here are the first two minis of what I hope will be a long line of future mini-painting projects. I have about 3-dozen or so unpainted miniatures kicking around, I just need more hobby time to paint 'em.
I blazed through a few YouTube videos to get an idea of the process that went into painting standard miniatures and then just winged it from there. They turned out really well and I am happy with the results. The only thing I find difficult is to reproduce multiples of one type of miniature (for use in tabletop roleplaying games like Dungeons & Dragons, since often more than one type of any creature may be encountered by the adventuring party). My instincts are to create something unique every time, but perhaps once I get some more experience, painting identical multiples of certain minis will feel more rewarding.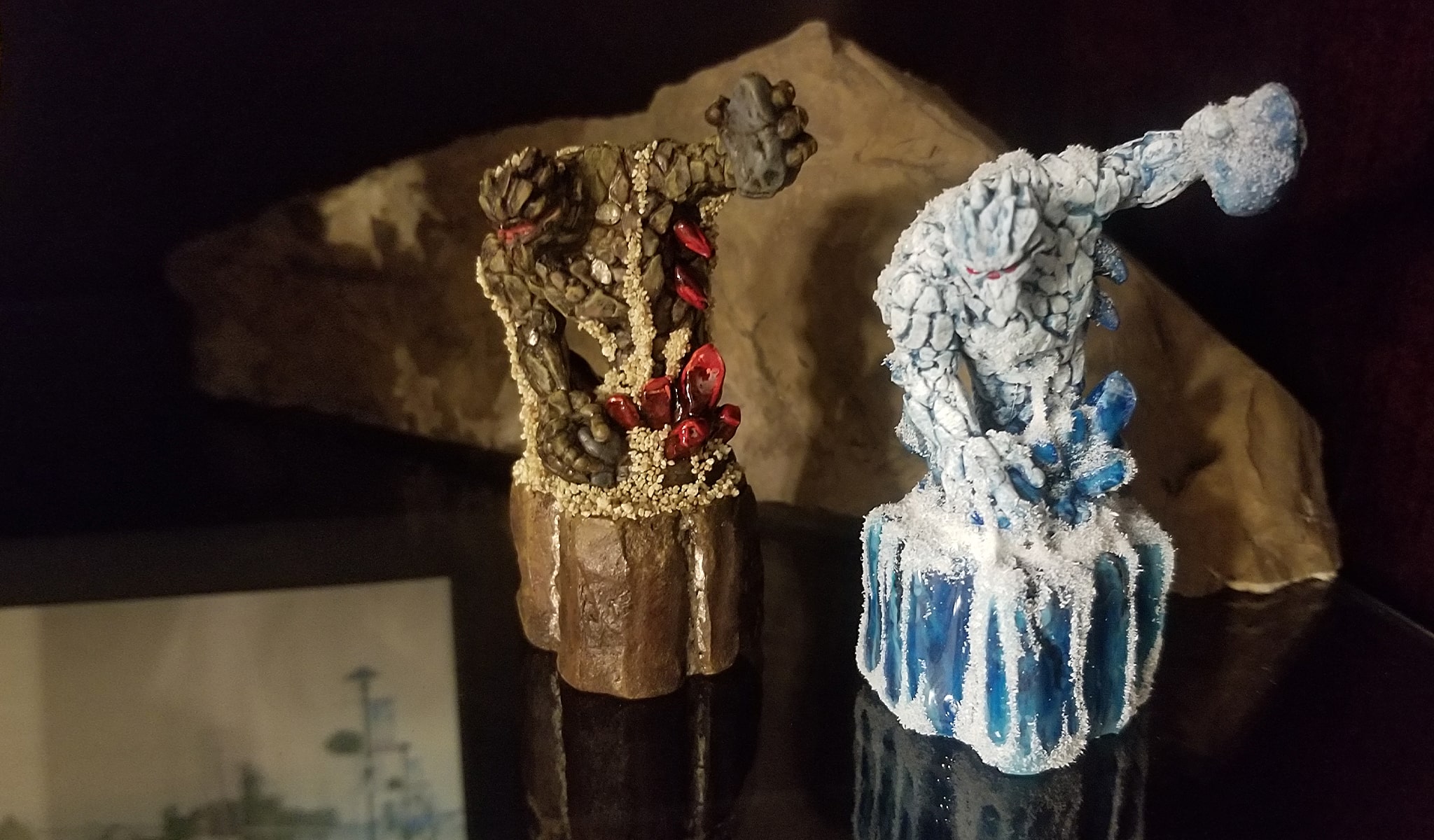 My girlfriend had broken one of her favourite Final Fantasy figures during a recent house move, so I thought I'd try to fix it up for her. Using Sculpey® clay and a little dose of imagination, I put some nature into the pedestal and gave this figure a new lease on bookshelf life with a rocky base and some foliage.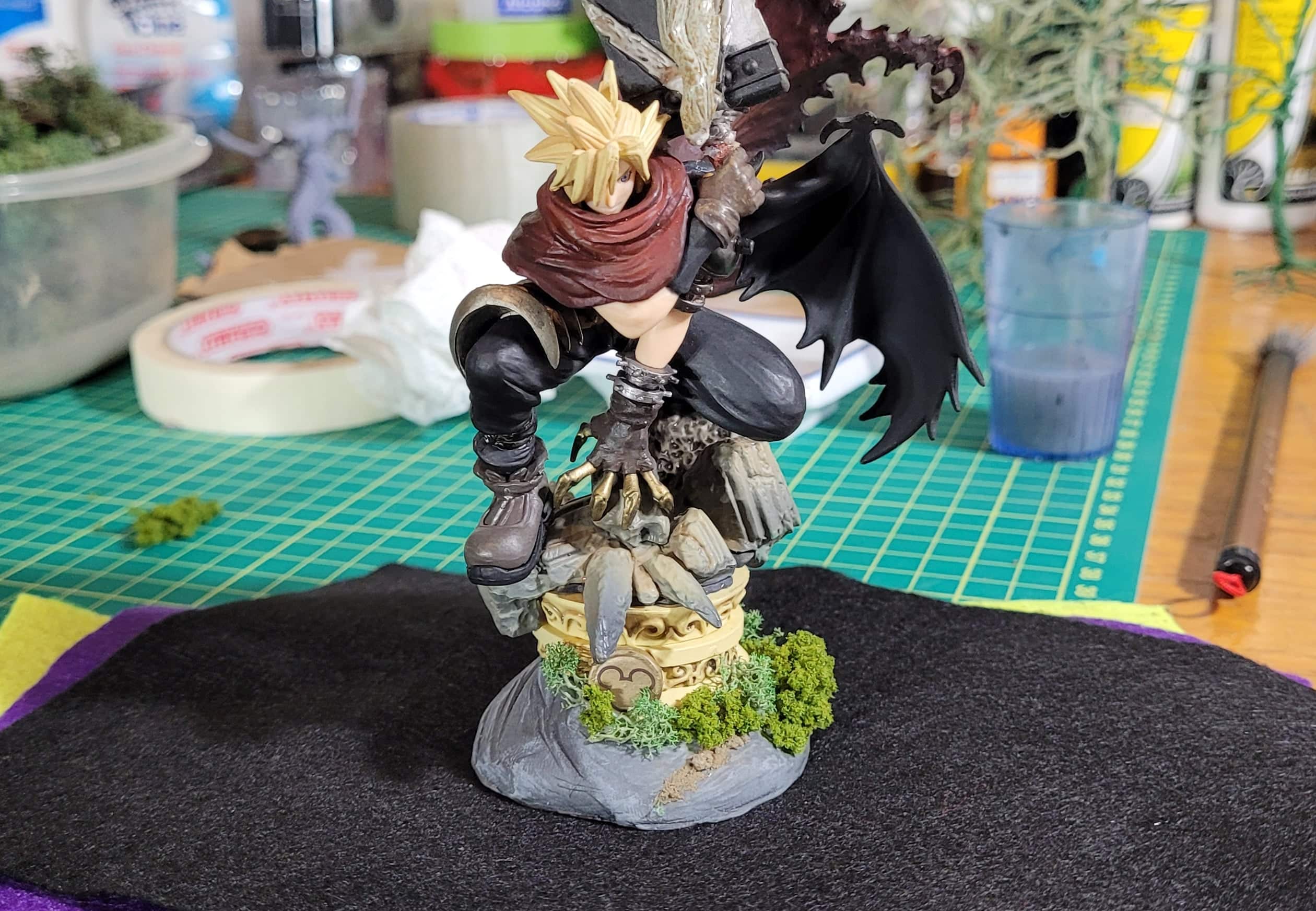 Creating Miniature Terrain
Just over a year ago (2021) Brit Young and I started building a piece of winter terrain. We were aiming for something with a touch of 'glacial melt' feel to it and this is how it turned out.
Admittedly, we didn't take many photos of the process; more just dove right in and got things done. This is also our first time pouring epoxy so that was a mildly tense adventure, and it turned out pretty much perfect. I had thought about gently topping a few of the cresting water areas with a translucent white but the look and feel of crisp cold water gently flowing appealed to us more so we left it as is.
This was designed to not only test our mettle with building miniature terrain, but also in creating seasonal terrain. You can only barely see the sparkle in the crisp, fresh snow, but I'll be sure to upload a video soon to show just how 'wintery' it is.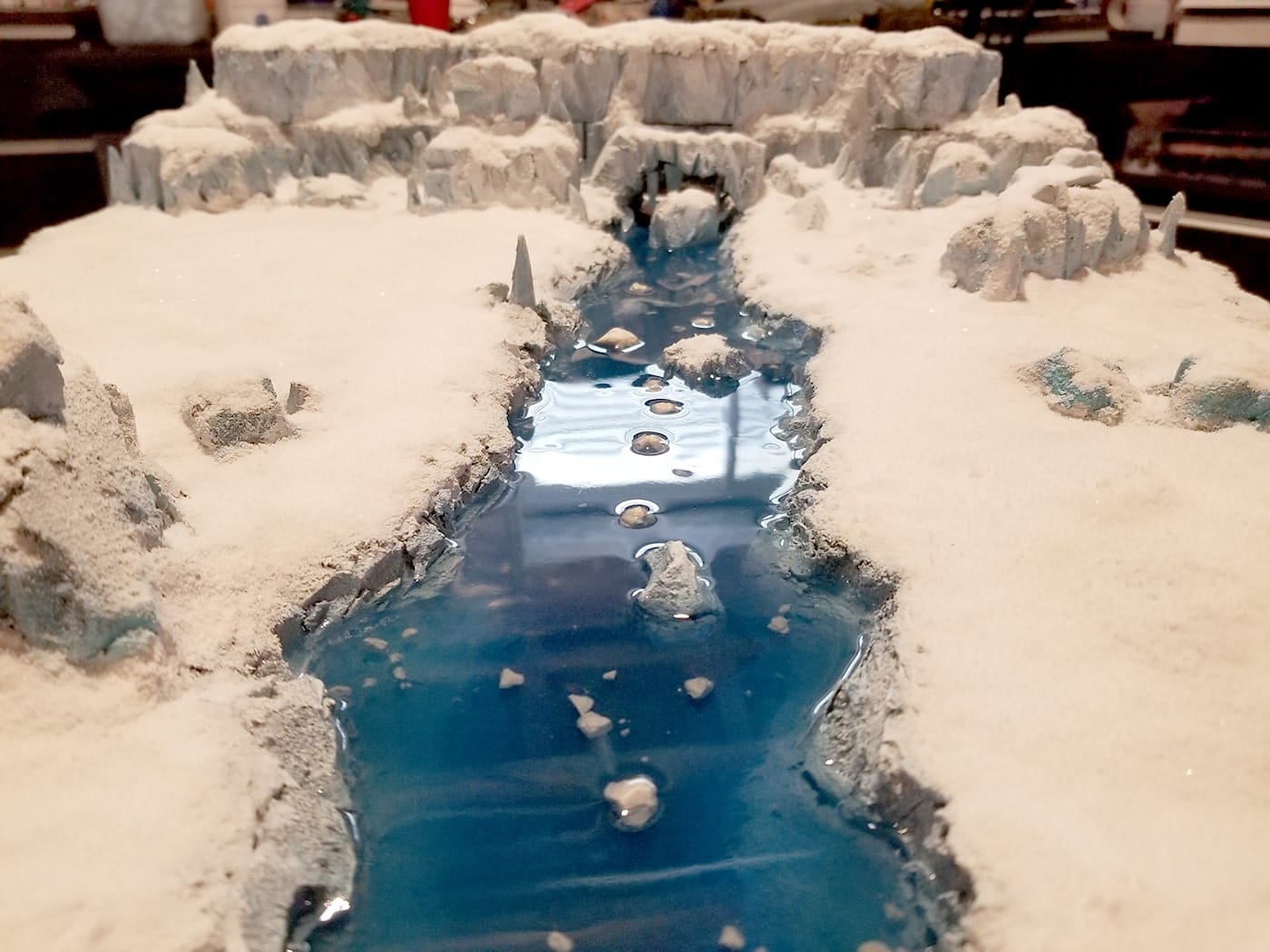 🧚
Fairy Forest
🧜‍♀️
Mermaid Sanctuary
Project Currently in Progress
Last year my best friend Brit Young and I started building a large-scale piece of organic terrain and here is the results of the effort thus far. We are aiming for 'Sacred Unicorn Glen / Fairy Forest' meets 'Mermaid Sanctuary / Sunken Temple'. I know; we're ridiculous. But, if we're putting in the time and effort to get some experience in miniature terrain building we might as well put our every desire into it. 😀
The plan is flora, fauna, and fungi, LED lighting in appropriate places and a deep epoxy pour on the prismatic-spring style body of water. I'll post more recent photos and updates as I am able!